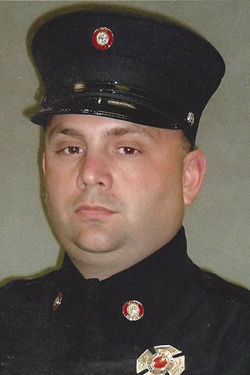 Chance B. Wills, age 43, of Joplin, Mo., passed away on Saturday, Aug. 8, 2015, at his home.
Chance was born on Aug 28, 1971, in Joplin. He has been a lifetime area resident. He graduated from Joplin High School a member of the class of 1989. He graduated from Crowder College with an associate's degree in Fire Science. He served in the United States Air Force and was a veteran of Desert Storm.
He married Amy Falkensten on Sept. 23, 2000. Together they have two children.
Community service was very important to Chance, at a young age he became involved with the Duenweg Fire Department where he has been a member since 1996. He is currently a lieutenant on the Webb City Fire Department, and has been a fire instructor since 2002. He has taught at the Carl Junctions Fire Academy, sponsored by Crowder College, from 2006 to present. He also worked for METS Ambulance from August 2002 to 2010. He was a member of St. Mary's Catholic Church. He was also a member of the Route 66 Car Cruze and the IAFF.
He is survived by his wife, Amy Wills, Joplin; two children, Landon Wills and Ava Wills, both of the home; his father, Jimmy Wills, Joplin; two sisters, LaDonna Hammonds, and Connie Obadencio and husband, Don, all of Kingsford Heights, Ind.; his father-in-law, Richard Falkensten, Joplin; and his mother-in-law, Sharon Haight. He was preceded in death by his mother, Linda Wills, in 2012.